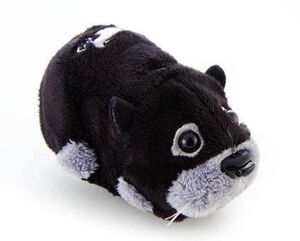 &nbsp
Dezel is a zhu zhu pet.
Quiet, and somewhat the loner of the group, Dezel spends much of his time in his garage working on his motorcycles. When you see him out riding, he always remembers safety first. You'll never catch this rebel without his helmet! Some think he's rude, but Dezel just doesn't say much because he prefers to listen and take everything in.
Name: Dezel
Gender: Male
Color: Black and Gray
Birthmark: Heart w/ flames
Birthday: 12/22
Family: Spottie (sister),Pinkie (sister),Peachy (sister),Boo (brother),Bamboo (sister),Shamrock (sister)
Ad blocker interference detected!
Wikia is a free-to-use site that makes money from advertising. We have a modified experience for viewers using ad blockers

Wikia is not accessible if you've made further modifications. Remove the custom ad blocker rule(s) and the page will load as expected.