Ad blocker interference detected!
Wikia is a free-to-use site that makes money from advertising. We have a modified experience for viewers using ad blockers

Wikia is not accessible if you've made further modifications. Remove the custom ad blocker rule(s) and the page will load as expected.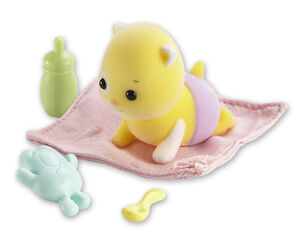 &nbsp
Nanners is a zhu zhu baby.
Nanners will never sit still while the sun is out and the weather's warm! This lively little gal loves taking a dip in the baby pool, speeding around the merry-go-round, snacking on a tasty snow cone, or riding her tricycle on the trail. She's often seen nibbling on bananas, which is her favorite food and the reason for her name!
Information
Edit
Name: Nanners
Gender: Female
Color: Yellow
Diaper Color: Pink
Birthmark: A Banana
Birthday: 12/20