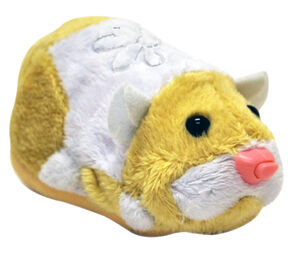 Patches is a Zhu Zhu Pet.
Patches is always on the move! She loves flowers and will do anything, run on wheels, slip on slides, and go through crazy U-turns to sniff some delicious petals. While she's always moving and running around, she still makes time to love her human friends. Patches is a loveable, huggable, zhu -zhu-zhu-oom-able hamster and friend!
Information
Edit
Name: Patches
Gender: Female
Color: Yellow and White
Birthday: 08/17
Birthmark: Flower
Family: Pipsqueak (sister), Butter Cheeks (sister), Baboose (Pets) (brother), Nanners (sister), Jilly (sister), Winkie (brother), Jinx (brother),Thorn (crush/future boyfriend/husband)
Ad blocker interference detected!
Wikia is a free-to-use site that makes money from advertising. We have a modified experience for viewers using ad blockers

Wikia is not accessible if you've made further modifications. Remove the custom ad blocker rule(s) and the page will load as expected.