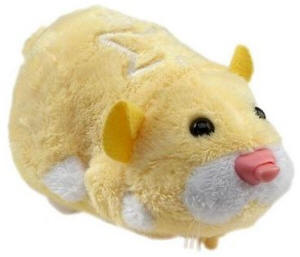 Pipsqueak is a Zhu Zhu Pet. She was one of the first hamsters released.
Pipsqueak may be sweet and small, but this petit powerhouse isn't afraid of anything. A daredevil with the curiosity of a dozen cats, she loves to play, explore, run and slide. Just give her some wiggle room and watch her do her stuff. She is also the main character for the movie the Quest for Zhu.
Information
Edit
Name: Pipsqueak
Gender: Female
Color: Yellow
Birthmark: Shooting Star
Birthday: 01/22
Family: Butter Cheeks (sister), Patches (sister), Babboose (brother), Nanners  (sister)
Friends: Chunk, Num Nums, Mr. Squiggles , and more!
Owner: Katie
Ad blocker interference detected!
Wikia is a free-to-use site that makes money from advertising. We have a modified experience for viewers using ad blockers

Wikia is not accessible if you've made further modifications. Remove the custom ad blocker rule(s) and the page will load as expected.