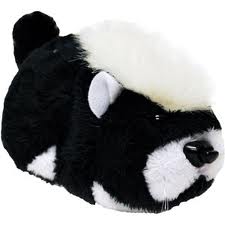 Stinker is part of the Wild Bunch and is a Zhu Zhu Pet. He appeared as a villain in the 2011 movie Quest for Zhu.
Stinker the skunk is one mischievous prankster. All of the other ZhuZhu Pets try to avoid Stinker, and it's not just because of his stinky-ness! Stinker always seems to find trouble often gets the other pets in trouble too! He doesn't try to be mean, he just thinks it's fun!
Information
Edit
Name: Stinker
Gender: Male
Birthmark: Baseball
Family: Tater-Tot (brother)
Animal: Skunk
Birthday: 6/2
Several variants of Stinker were released with a pink nose instead of a black one.
Ad blocker interference detected!
Wikia is a free-to-use site that makes money from advertising. We have a modified experience for viewers using ad blockers

Wikia is not accessible if you've made further modifications. Remove the custom ad blocker rule(s) and the page will load as expected.