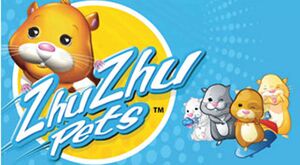 Welcome to the Zhupedia Wiki
Edit
This is a wiki for Zhu Zhu Pets, Kung Zhu, Princess, Babies, Puppies and Zhu-Fari.
Zhu zhu pets are cute, Funny, And unique.
They are not all the same!
Upcoming Zhu Zhus
Edit
Booley (puppies)
Marmie (Zhu Zhu Pets)
Peanut (Zhu Zhu Pets)
Pumpkin (Zhu Zhu Pets)
Babboose (Zhu Zhu Pets)
Snickle-Fritz (Zhu Zhu Pets)
Friday
Hervey
Cutie
Toodles (Zhu Zhu Pets)
Baako Zebra
Wharton Elephant
Zuri Cheetah or Leopard
Zulu (giraffe)
Ozzy (monkey)
Pumpkin (zhu zhu pets)
Liacic ( puppies)
Heldi ( zhu zhu pets)
Goo (Fake Zhus)
Forest (zhu zhu pets)
Mizi Mo (puppies)
Jack (lion)
sunny (penguin)
Mr. Barney
Comfirmed Zhu Zhu Pet Genders
Edit
Pookie - Female
Merritt - Female
Rori - Female
Bucky - Male
Nilla - Female
Jelly - Female
Annabelle - Female
Lucky - Male
Josie - Female
Spike - Male
Nsp - Male
Xia Xia Hermit Crabs Wiki
Edit
Visit Xia Xia (our sister wiki) to find out more about your favorite Hermit Crabs.
Ad blocker interference detected!
Wikia is a free-to-use site that makes money from advertising. We have a modified experience for viewers using ad blockers

Wikia is not accessible if you've made further modifications. Remove the custom ad blocker rule(s) and the page will load as expected.